I look forward to my Vitacost supplement catalog in the mail like any random guy aged 18-24 anticipates his Maxim. It's just part of being so wrapped up in health and nutrition; you forget that there are magazines with more pictures of naked chicks and less pictures of liquefied grass.
To be honest, I'm already filling my cart back up with things I need for my upcoming parasite cleanse, which of course I'll be blogging about, but right now I want to share with you the joys of buying bulk supplements online.
I like to go to my local health food store to grab a bottle of kombucha, some locally baked vegan cookies, raw foods like dehydrated brownies and flax breads, and other good local or perishable items. The supplements, however, are on such a high markup that I wouldn't be able to afford them if I bought them there. Lame. Vitacost is a great alternative for those things that are on the markup list, like pills, powders, and non perishables.
I buy things like powdered vitamins, my kids' supplements, and bulk chia seeds, milled hemp, flaxseeds, ect. Here's my last order
You're looking at a two month supply of whole food powder vitamins, children's green food supplements, a pound of chia seeds and a pound of organic milled hemp. They have this cool shipping thing where it's only $4.99 to ship no matter how much it weighs (effectively getting me to buy more), so all this only set me back $50. It might seem like a lot, but when you don't spend all your money on crap at the grocery store, you can just take the leftover money and drop it on good stuff like this. Even my family, living below the poverty line, can afford optimal health ordering like this in bulk.
And Vitacost always has some special going on. Every time I order I use a code I've gotten through a catalog, an email, or a coupon site. This time I got a free mouse pad and a free 2 week supply of this awesome new children's supplement. It's not powder or a chewable, it's little candy rocks, like Pop Rocks without the popping. Free, baby! I also got 10 issues of Health magazine for free, whatever that is. I'm sure it will inspire many angry blogs in the future, as do most health magazines I see on the stands today.
Does 50 bucks still seem like a lot? It is. But at my local health food store, a pound of chia seeds is $23, a pound of milled hemp is $14, ONE can of whole food powder is $25, and children's green supplements are $18. That brings my total for this order to a cool $105 dollars, and I didn't get a mouse pad, a magazine subscription, or a free children's vitamin sample. I lose the game.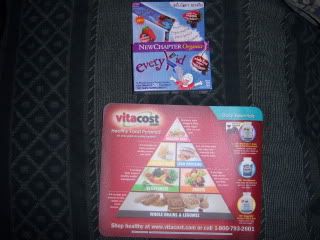 So there. Bulk health. And they ship really quickly, too. I usually wait 2-3 days to get my order. Right now I'm shopping for a good parasite combo pill and I've already found a great colon cleansing supplement. It's cascara sagrada based, NOT senna, haha, because I want to have a life. Senna is only for extreme cases, like people who have been eating fast food their whole life and never done a cleanse. Are you excited? I am. If I find any parasites in the toilet, though, I'm going to flip. 85% of Americans have at least one parasite leeching off of them, so my odds aren't great that I'll come out clean. Wish me luck!
Oh, and remember the
Hummus blog
? Here's a pic of some Raw Sunflower Seed Hummus I made later that day.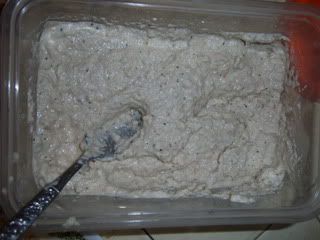 CREAMY GOODNESS!