I've signed up my blog to participate in this year's Vegan Month of Food, or Vegan MoFo for short. Since I'm not participating in NaNoWriMo I needed to get into something for the month of October. So I'll be making lots of entries this month with all kinds of interesting vegan food that I come up with or come across in my travels. Since my blog is already devoted to holistic living and raw vegan food, this shouldn't be a problem :)
This week at Elliot's we came across quite a few new things to try. The Elliot's on El Camino Ave in Sacramento has been doing a lot of discounts lately, as well as bringing in all new food items that are really fun and actually well priced. They also added an entire wall of raw, living foods, which pretty much made my life complete. I picked up this delicious vegan treat there.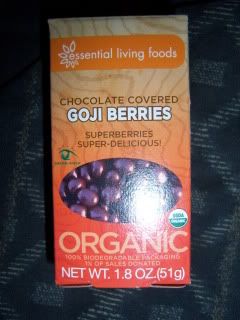 Goji berries are already an amazing superfood with an intense amino acid profile and loaded with enough antioxidants to make blueberries look worthless. These dried goji berries are actually coated in cacao, which gave them a dark, slightly sweet melty quality that really paired well with the tart of the goji berry. I only need two or three of these things to keep me going, so at $3.89 a box, this thing will last me at least a week.
Seth found this new line of goodies he wanted to try: Vegan Jerky!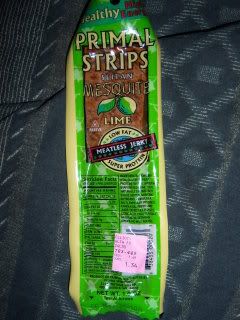 The Primal Strips brand had two kinds of jerky. The one pictured is made with Seitan, which is an asian food made primarily from wheat gluten. While I normally don't recommend gluten for ANYBODY, this was just a strip and it's basically vegan junk food, so I wasn't really too concerned. It's not supposed to be good for you, it's supposed to be fun to eat. They also carried other flavors and strips made from hydrolized soy protein, another "food" I seriously can't say is safe, but it's all in the name of fun. And I didn't eat them, anyway :) So, at $1.30 they are actually cheaper than gas station jerky and parasite free, which is always positive.
Most of the living and raw food is priced way out of my league. It's unfortunate, too, because they had some superfood drink powders I would have loved to add to my green smoothies. But you guys can look at all of these things and more this Saturday, October 10th at 10am. I'll be there waiting for my free Vitamin Code Grow Bone sample! Check out the
Vitamin Code promotional page here
to see the formula and the information on how you can find a store near you, because this is happening all across America 10/10/09.
I have a story for you all involving Seventh Generation products, so if you use this brand you won't want to miss it. That'll be coming up soon, so please subscribe using the link on the right side of the page to stay updated! Also, I'm in the planning stages of opening a .com and perhaps distributing an ebook, so make sure you don't miss anything :)