I like to post food ideas that AREN'T recipes. Recipes just perpetuate the idea that food has to be a production, when really food is the fuel you need to create the production that is your life! Abandon the recipes and the endless food obsession and learn some fun and quick food improv! Use anything you've got, and follow these basic steps to make some yummy Nori Rolls.
I use things like, but not limited to:
Bell Peppers
Cucumbers
Tomatoes
Onions
Sprouts
or any veggie that you can slice thinly. You'll also need some nori sheets, since everyone should be eating seaweed as much as possible. By using nori sheets to roll up lots of other things in you can experience the health benefits of eating sea veggies without completely immersing your diet in a fishy smell. I actually like the taste of nori, but I know a lot of people don't and by using a flavored sauce in these you won't get the overpowering sea taste.
Here's what I'm using today:
GREENS!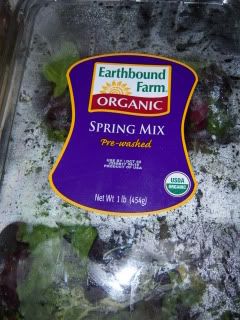 Sprouts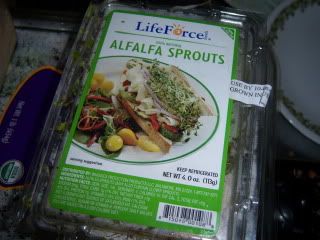 Raw Sunflower Seed Hummus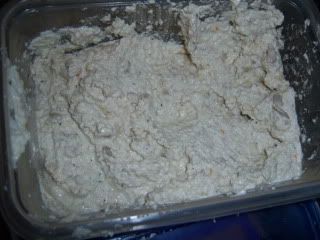 Matchstick veggies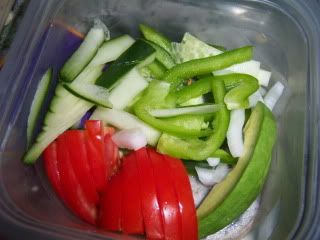 This is the easiest thing you'll ever throw together, and the most delicious! I'm also using avocado, which you'll be able to see on top of the pile of delicious food. If you've ever made sushi or watched someone else do it, this is the same only easier. Lay out a nori sheet on a VERY DRY countertop. Don't get it wet. It will begin to stick, and we don't want that to happen till later. Nori has a shiny side and a rough side. I usually lay everything on the rough side so that the shiny side is on the outside of the roll.
All you have to do is take all of your food and lay it along the bottom edge of the nori sheet, which is very easy since the sheets are square. Here's a picture of my roll, as yet unrolled. The sauce I'm using is on the bottom, spread on with a butter knife on the bottom third of the seaweed. Then I have the rest of my food piled on in a nice line across the bottom of the roll.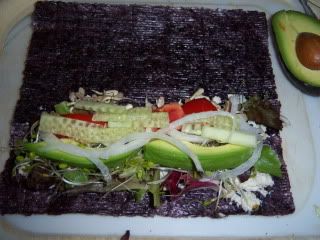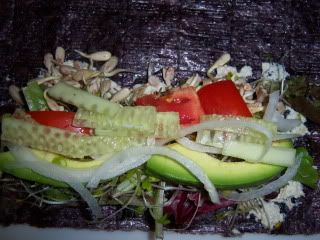 Not too hard, huh? Okay, roll it up! No kidding...without all the hot rice and other classic sushi fillers it's much easier to roll, and it doesn't matter if it's loose or not. When the roll is about to be complete, brush the top fourth of the sheet with water to help it stick in a nice roll shape. It'll look like this when you're done: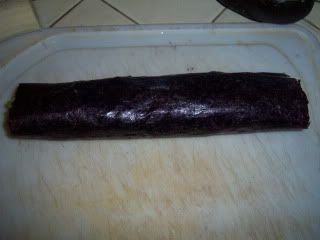 Wet a knife and slice it three times, wetting the knife in between each slice to help the seaweed cut nicely. I've made a lot of vegan sushi in my time, so some of the old tricks still work on these wraps.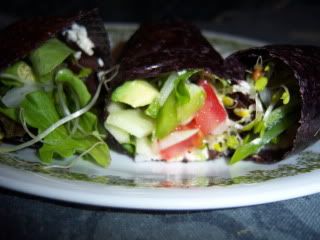 TA-DAAAAA! Wow, that looks delicious, doesn't it? It's incredibly simple and quick to make, and you can basically recreate it each and every time you eat it. Use whatever, experiment and find new veggie and filling combinations to love. Some people even fill them with thick pastes made from green powders, spices, seasoning, dried herbs, raw seeds...the ideas are really endless!