And I'm exhausted. It's funny how a vacation can be even more draining than your normal routine. I had a blast in San Francisco, and remembered all too well how much I love the city and would rather be there than here in Sacramento. All in good time :)
Today I'm making raw nori rolls, a very popular raw recipe that's sort of like raw sushi. A mess of crap is rolled up in sheets of seaweed and eaten in slices: what's not to love? I'll be making mine with sunflower seed spread (delicious!), lots of greens, veggies, sprouts, and some avocado! Top that off with a little salad on the side and it's dinner time! I'll take step by step pictures for later, if anyone is interested and can't figure out how to throw food in a pile and wrap it.
Sacramento area, do you like free stuff? Me, too! How about free supplements? That usually gets me crazy! But now I'll add this on: free RAW VEGAN WHOLE FOOD SUPPLEMENTS? On October 10th at 10am sharp, health food stores all across America will be giving out free Vitamin Code Bone Health supplements, and Elliot's on El Camino and Watt Ave is one of them. I'll be there, too, so you'll get a double treat. Cause I'm a treat.
Vitamin Code is a company that makes supplements without synthetic vitamins, meaning that their pills are filled with nothing but real, raw, whole foods and are are utilized way more efficiently by your body. This is an amazing opportunity and I can't wait to try their Grow Bone Kit for FREE!!! I love free!
I also picked up something today that wasn't free but was well worth the $1.95.
Gopal's Health Foods
makes a ton of really neat snacks, and Seth and I picked up their Nori Power Wraps. They are amazingly delicious and since they're dehydrated they taste and feel a lot like beef jerky sticks. I have to say I'm really into these little guys. I'm really bummed, though, because this is the same brand that made that PERFECT brownie and Elliot's doesn't carry it any longer. Browse around the site because they have some really cool treats. They even have a product called "Rawmesan", which is a raw vegan version of seasoned cheese powder.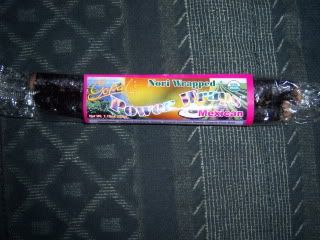 Right now, I'm on vacation. I'm not doing anything other than playing video games and reading books on my personal reading list (which is strikingly similar to my school's recommended reading list, haha). No challenges, no cleanses, and no tests of endurance or will. Seth, however, is starting a juice feast tonight, so I would avoid him if at all possible. Also look out for his own gaming blog, which he may or may not get up and running fairly soon. I'll keep you posted :)