I went to Raley's the other day to look at all the expensive food. Sometimes I do that. It's all really just prepackaged vegan specialty foods like rice cheeses and packaged seitan steaks, dairy free ice cream, and other mass produced animal free junk food that is fun for an occasional treat but overall is way too expensive and almost as bad as eating the original. Well, I wandered through the ethinic aisle and came across a box of Latka mix and thought, "holy crap, that looks good". Yeah, too bad the mix requires egg and is filled with gluten.
A few days later, I went through my kitchen for some long forgotten items and came up with a recipe for potato pancakes that most likely don't taste like a prepackaged mix, but EW! Nasty chemicals can't compare with homemade food! Plus, I thought they tasted really good.
Get this stuff:
Potatoes. I don't think there are any rules here. I used russet. Some people even like sweet potatoes.
Onions and Garlic
Chia seeds. Or flax, if that's all you have.
Corn meal.
Grate the potatoes. Oh my god, this took me forever, and I think you should use a food processor grating tool, okay? I have a really crappy tiny little grater from WalMart I had to use and man, let me tell you it was no picnic. Anyway, grate like, 5, for a few pan fulls of food.
I chopped up my onions and garlic in the Magic Bullet, cause that's how I roll. Add those to the potatoes AFTER you totally squeeze all the water out of the potatoes. Just grab handfuls and squeeze over the sink. Mix all that mess together.
Now, add some corn meal. How much you add is kind of up to you and how many potatoes you're using. Add more if you like the consistency more batter-like, if you like a more hash brown-y type product add less. For 5 potatoes I used about 4 tablespoons.
Now, add your chia seeds. Not dry, obviously. If you're using chia seeds, add a table spoon to 1/2 cup of water and let sit for a half an hour at least. If using flaxseeds, grind them up and add 2 tablespoons to 6 tablespoons of water. You can just soak them overnight and then add more water until you get an egg like consistency. These things are going to gel up and make a pudding, but you want to them to be about the consistency of a beaten egg, so just add more water if it's too thick, or more seeds if it's too thin. By the way, don't use golden roasted flaxseeds unless you want your pancakes to taste like high fiber cereal. I use chia seeds every day so this is old hat for me, but if you are too overwhelmed by the idea of adding seeds to water just go buy a box of Energ-G Egg Replacer and remember to cool your brain every few hours.
Now, mix all this stuff up really good. Add seasoning if you want, I didn't. Now, cook them as per your particular dietary needs. Bake, broil, pan grill or fry them. Just make sure they are browned on all sides and cooked through the middle, although there's not a whole lot of danger here since we aren't using eggs.
TA-DAAAAA!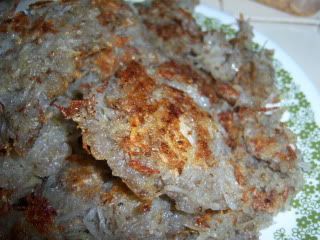 As you can see, I like mine browned on both sides but still soft and gooey in the middle. Some people like 'em thin and crispy. Do what you want, but make a ton, because everyone likes these things.