And now for something completely different...
I, the Cat Paparazzi, followed Edward, the black kitty, and Bella, the grey kitty, into the kitchen to try and get that million dollar shot of a torrid love affair. I struck gold. They were being careless, and I was in the right place at precisely the right time. It was as though they were in their own world, and no one was there. But someone WAS there.
Here they are, two passionate lovers in the night.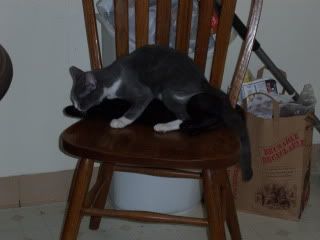 But my camera flash interrupted their embrace, and in shock they both realized what I had done.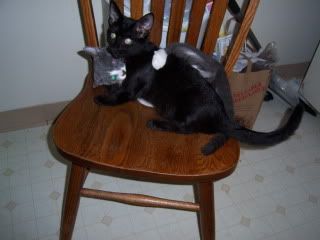 "Ha!" I exclaimed. "I'm selling these to US magazine! Now, everyone will know for sure that Edward and Bella are indeed having an affair behind the scenes! The rumors were TRUE!" I waved my camera at them, and took a few more shots, in awe of what I'd just done.
"Go on!" Edward yelled, ignoring the flash of my camera in his eyes, filled with betrayal at my actions. "Tell the world, tell all of them! We have nothing to be ashamed of!"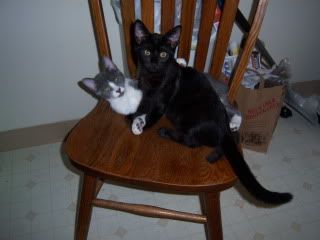 Bella, hiding behind Edward, opened her eyes wide and begged me silently to forget everything I'd seen here. But I couldn't betray you, the public, and let them hide their love in the shadows. Now, all of you know the truth!