Every time I try to buy dandelion greens from the supermarket, it's a challenge. First of all, they rarely have them in. It's not because of seasonal issues, because the other chain grocer in my area has them 100% of the time, but it's a much longer walk and more often than not I don't feel like tacking an extra mile to my walk to buy 2$ worth of greens, however awesome they might be. But let's say a miracle has occurred, and Save Mart has a bundle of dandelion greens. In this case, when I take it up to the checkout, it has no barcode on the tie and no code to key in. I have to wait until the self check girl notices my plight and shuffles lazily through a reference sheet of about a million codes, searching for something she's never heard of. It takes forever.
All whining aside, I do wish that it was a little easier to buy dandelion greens, or kale for that matter. If you have easy access to these amazing super special awesome foods, take advantage. The easiest way is to throw a quick green drink into your day. I can't think of a better way to make a fast and dramatic change to your mood, your energy levels, your mental clarity, and your overall health. Despite the nuclear color, this super shake tastes fruity and sweet and I'm gonna show you how to make it.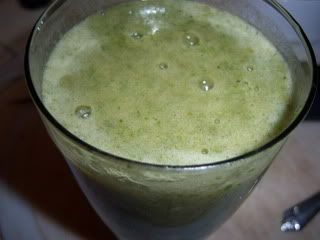 The magic of the green smoothie is that it changes with the seasons, with the time of day, and with your own needs. It doesn't take much to make it, you don't have to have any extra powders or expensive ingredients, it's fast and filling and can be eaten for any meal of the day or just added in to your current menu.
Some basic ingredients:
Bananas! These energy powerhouses are insanely cheap and make a perfect foundation for a good smoothie. If you're aiming for a meal in a glass, use 5. If it's just a snack, try 3.
Raw greens. This is where the good feelings hide :) I cram handfuls into my blender, but if you're new to green smoothies, start out with 1 cup of spinach, romaine, green leaf, or whatever you're used to. Avoid white or pale greens. You want dark, mineral rich leaves.
Apples. They're in season, they're sweet, and they blend well. Slice up 1-2 small ones and throw them in. Pears will have a similar effect, but make sure they're ripe. Crunchy pears are not good.
Berries. The more, the merrier. Berries blend right up and add great flavor and loads of nutrition. Make sure they're organic because berries are one of the most dangerous foods to eat non-organic. Try strawberries, blueberries, or if you really want to feel good try goji berries (which I am so addicted too, haha).
Celery. You absolutely gotta have some celery. This is a majorly hydrating food and should be eaten daily, hopefully in lieu of table salt (gasp!). It does have a bit of a salty taste, so add sparingly once you've found a smoothie blend you like.
Water. Don't even try to add juices or milks to this. Add lots of purified water to make sure everything blends easily and goes down smoothly.
Here's a list of some extras that I either use daily or have used in the past:
Hemp powder (for me, it's a must)
Maca
raw cacao powder
spirulina or other algae
any whole food powders or liquid vitamin supplement
soy or rice powder
powdered herbs
Green smoothies are pretty individual, and everyone has their own favorite mix. My favorite at the moment is bananas, spinach, kale, hemp, maca, and my whole food powder. Change your smoothies as the seasons change to keep things fun. Summertime makes for fun tropical drinks filled with mango, pineapple, kiwi or watermelon, while winter drinks can be filled with apples, pears, soft persimmons, and dark winter greens.
There's nothing more energizing and refreshing in the morning than a superfood smoothie filled with more nutrients than you'd get from an entire days worth of food. Skip the coffee and actually wake up.